This project proposes a new urban reality that reappropriates, reframes, and radicalizes what are quickly becoming landscape 'habits,' such as rain gardens, in order to capitalize on the potentially sublime ecological, physical, and psychological effects such concepts might generate. By uninhibiting the formal, spatial, and programmatic potentials of such habits, new landscape conditions are fostered which instigate new social and ecological interactions.

The site pulses with biotic energy and rhythms at multiple temporal scales. At dawn and dusk the bats leave their home and seek food, which is purposefully supplied by the moist, emergent ecosystems that the bat structures are situated within. As the sun rises and sets, the microclimates within the rain garden structures and the nano-climates embedded in their skins undergo/register evapotranspiration and temperature shift. As it rains the site's depressions and swales swell and the paths become muddy and less defined. The site is a self-regulating open system that is able to maintain a vigorous and steady population flow, which attests to its ecological health and productivity. Aquatic life, macroinvertebrates, insects, birds, bats, and larger mammals contribute to this flow and cycle.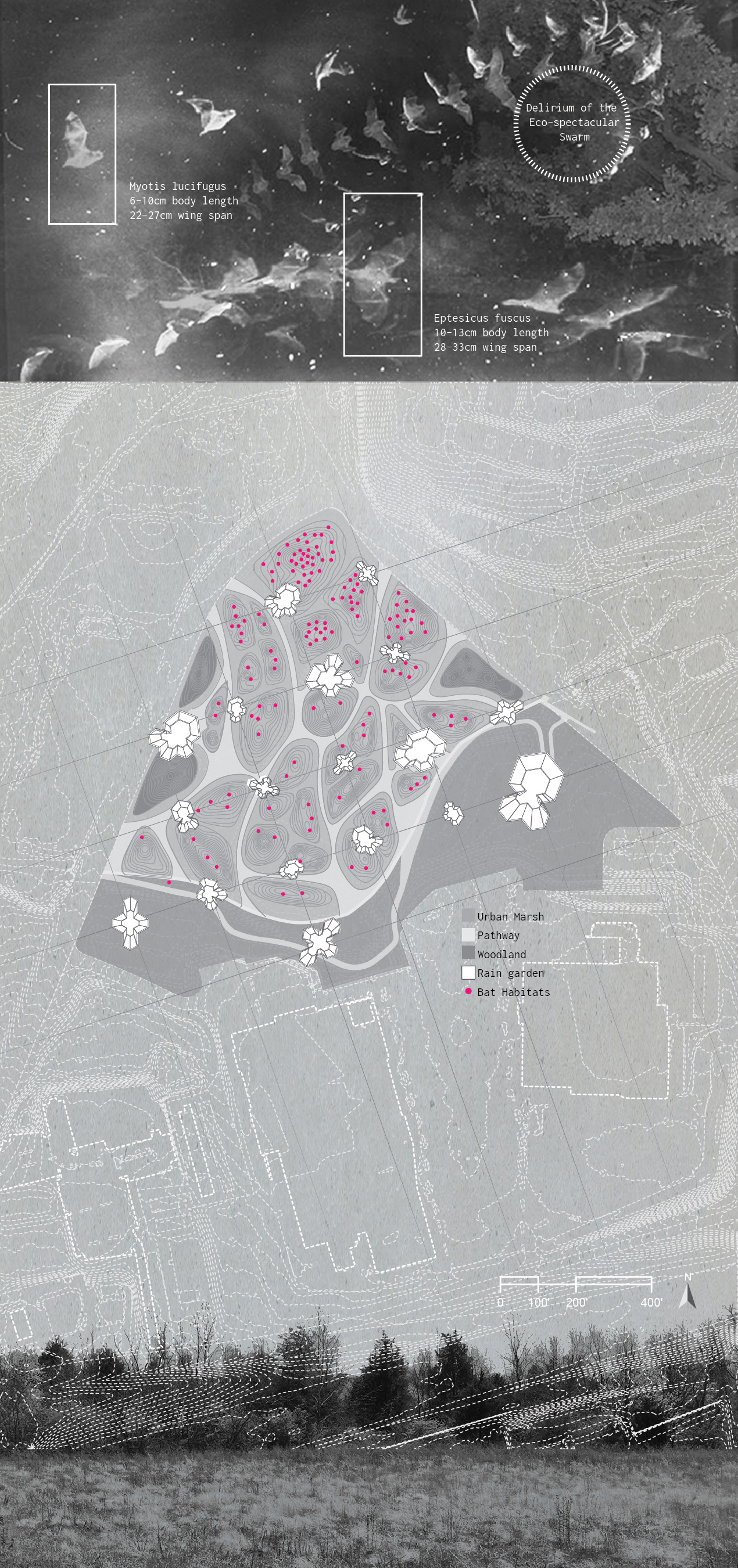 The site strategy unfolds over time beginning with the creation of depressions and and the reconfiguration of the creek in order to expand its profile and potential impact on the site. there should exist then a mutual regulating of the landscape and its environmental conditions. Even with the bats absent or hibernating for a few months out of the year, the other communities the marshland fosters remain active.
For human inhabitants, this landscape resists expectations of static pastoral scenography, in favor of immersive ecologies - messy, biological marsh and riparian ecologies. The purpose is to witness raw magnitudes of wildlife from the violence in a hungry, swarming colony of flying mammals to the subdued, but persistent movements of insect production. The rain gardens punctuate this new landscape and add to the unusualness of this urban wetland, as they follow the same rules within the environment, but their form and structure leverage other ecologies and habitats.